UNDER ARMOUR PARTNERS WITH FULL SWING GOLF TO INTRODUCE INTERACTIVE IN-STORE GOLF EXPERIENCE
Posted: June 4, 2016
[vc_row ts_row_bg_effects="single" ts_row_min_height="274″ ts_row_break_parents="99″ css=".vc_custom_1430761802595{margin-top: -45px !important;}"][vc_column][vc_column_text el_class="page-heading"]
News & Events
[/vc_column_text][/vc_column][/vc_row][vc_row el_class="post-layout"][vc_column][vc_column_text el_class="post-body" css=".vc_custom_1459811129544{margin-top: -20px !important;}"]
UNDER ARMOUR PARTNERS WITH FULL SWING GOLF TO INTRODUCE INTERACTIVE IN-STORE GOLF EXPERIENCE
Under Armour's Chicago Brand House to Feature Full Swing Golf's Full Suite of Indoor Technology
(Baltimore, MD). – Under Armour (NYSE: UA) and Full Swing Golf announced a new partnership today introducing Full Swing Golf's latest technology, which will be featured in the global performance brand's Chicago Brand House store. Through the partnership, consumers visiting the Michigan Avenue location will be able to try Under Armour's innovative apparel and technology on the Full Swing S4 model simulator and Virtual Green product.
At the Under Armour Brand House, the Full Swing indoor golf simulator will give customers the ability to test UA golf products within a golf skills challenge environment. Under Armour will be utilizing Virtual Green's patented technology to change slope and undulation on a green. This technology will help replicate Under Armour and Full Swing Golf Brand Ambassador Jordan Spieth's famous putts throughout the past few years and provide Brand House visitors a chance to mimic what Jordan would experience on the course. "We are excited to partner with such an iconic brand and leader in innovative footwear and apparel," said Ryan Dotters, CEO of Full Swing Golf. "Both of our brands share the same commitment to innovation and technology as displayed with the unveiling of Virtual Green, a live undulating green. We are thrilled to be a part of Under Armour's efforts to drive the game through a truly unique retail golf experience."
"We chose to work with Full Swing and Virtual Green because of their cutting-edge technology, which provides Under Armour consumers with an unparalleled, interactive retail experience," said Susie McCabe, Senior Vice President of Global Retail. "Showcasing it in the UA Chicago Brand House, our largest retail location in the world, enhances our consumer experience in-store and allows brand fans to interact with our product in an innovative and engaging way."
Under Armour's Chicago Brand House, located on the city's premier Magnificent Mile retail destination, features nearly 30,000 square feet of retail space and delivers a fully immersive brand experience with cutting-edge products and design. In addition to the Brand House experience, Full Swing Golf and Under Armour will be partnering on future marketing initiatives, bringing elevated and innovative golf experiences to retail locations.
For more information on Under Armour and the Under Armour Brand House, please visit UA.com and @UnderArmour on Twitter and Instagram using #UAChicago.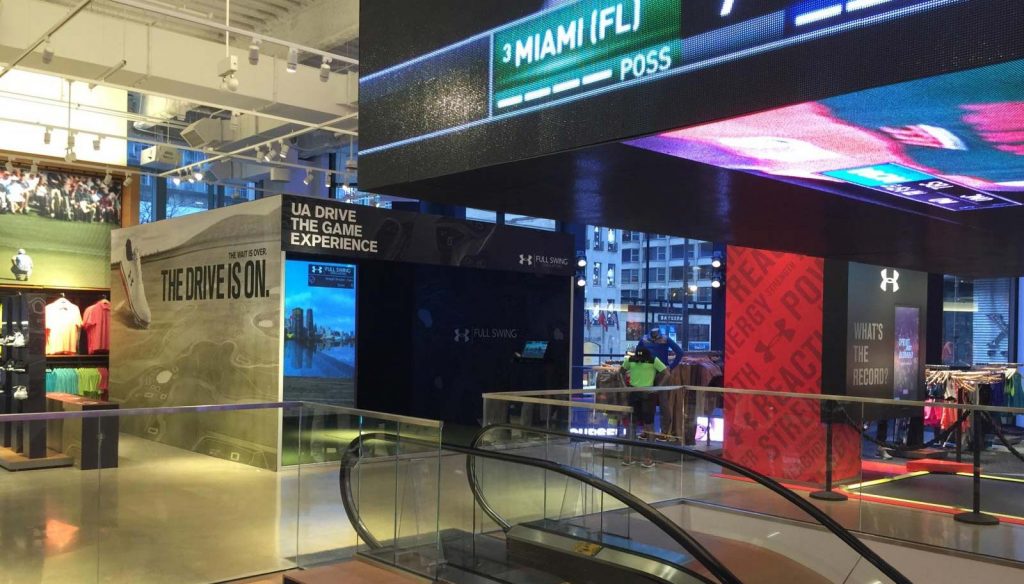 [/vc_column_text][vc_column_text] [do_widget "text" ][/vc_column_text][/vc_column][/vc_row]