FULL SWING PARTNER, JORDAN SPIETH, TALKS TOURNAMENT PREPARATION BEFORE BIG U.S. OPEN WIN
Posted: May 15, 2016
[vc_row css=".vc_custom_1430761802595{margin-top: -45px !important;}" ts_row_bg_effects="single" ts_row_screen_height="false" ts_row_screen_offset="0″ ts_row_min_height="274″ ts_row_break_parents="99″ ts_row_zindex="0″ ts_row_bg_source="full" ts_row_bg_position="center" ts_row_bg_size_standard="cover" ts_row_bg_size_parallax="cover" ts_row_bg_repeat="no-repeat" ts_row_parallax_type="up" ts_row_bg_alignment_v="center" ts_row_bg_alignment_h="center" ts_row_parallax_speed="20″ ts_row_automove_speed="75″ ts_row_automove_scroll="true" ts_row_automove_align="horizontal" ts_row_automove_path_h="leftright" ts_row_automove_path_v="topbottom" ts_row_movement_x_allow="true" ts_row_movement_x_ratio="10″ ts_row_movement_y_allow="true" ts_row_movement_y_ratio="10″ ts_row_movement_content="true" padding_top="30″ padding_bottom="30″ margin_left="0″ margin_right="0″ single_color="#ffffff" gradient_angle="0″ gradient_color_start="#cccccc" gradient_start_offset="0″ gradient_color_end="#cccccc" gradient_end_offset="100″ video_mute="true" video_loop="false" video_start="false" video_stop="true" video_controls="true" video_raster="false" svg_top_on="false" svg_top_style="1″ svg_top_height="100″ svg_top_flip="false" svg_top_position="0″ svg_top_color1="#ffffff" svg_top_color2="#ededed" svg_bottom_on="false" svg_bottom_style="1″ svg_bottom_height="100″ svg_bottom_flip="false" svg_bottom_position="0″ svg_bottom_color1="#ffffff" svg_bottom_color2="#ededed" ts_row_raster_use="false" ts_row_overlay_use="false" ts_row_overlay_color="rgba(30,115,190,0.25)" animation_scroll="false" animation_speed="2000″ video_remove="false" ts_row_raster_type="transparent" show_large="true" show_medium="true" show_small="true" show_extra="true" show_remove="true"][vc_column width="1/1″][vc_column_text el_class="page-heading"]
News & Events
[/vc_column_text][/vc_column][/vc_row][vc_row el_class="post-layout" ts_row_screen_height="false" ts_row_screen_offset="0″ ts_row_min_height="100″ ts_row_break_parents="0″ ts_row_zindex="0″ ts_row_bg_source="full" ts_row_bg_position="center" ts_row_bg_size_standard="cover" ts_row_bg_size_parallax="cover" ts_row_bg_repeat="no-repeat" ts_row_parallax_type="up" ts_row_bg_alignment_v="center" ts_row_bg_alignment_h="center" ts_row_parallax_speed="20″ ts_row_automove_speed="75″ ts_row_automove_scroll="true" ts_row_automove_align="horizontal" ts_row_automove_path_h="leftright" ts_row_automove_path_v="topbottom" ts_row_movement_x_allow="true" ts_row_movement_x_ratio="10″ ts_row_movement_y_allow="true" ts_row_movement_y_ratio="10″ ts_row_movement_content="true" padding_top="30″ padding_bottom="30″ margin_left="0″ margin_right="0″ single_color="#ffffff" gradient_angle="0″ gradient_color_start="#cccccc" gradient_start_offset="0″ gradient_color_end="#cccccc" gradient_end_offset="100″ video_mute="true" video_loop="false" video_start="false" video_stop="true" video_controls="true" video_raster="false" svg_top_on="false" svg_top_style="1″ svg_top_height="100″ svg_top_flip="false" svg_top_position="0″ svg_top_color1="#ffffff" svg_top_color2="#ededed" svg_bottom_on="false" svg_bottom_style="1″ svg_bottom_height="100″ svg_bottom_flip="false" svg_bottom_position="0″ svg_bottom_color1="#ffffff" svg_bottom_color2="#ededed" ts_row_raster_use="false" ts_row_overlay_use="false" ts_row_overlay_color="rgba(30,115,190,0.25)" animation_scroll="false" animation_speed="2000″][vc_column width="1/1″][vc_column_text el_class="post-body" css=".vc_custom_1436569381319{margin-top: -20px !important;}"]
FULL SWING PARTNER JORDAN SPIETH TALKS TOURNAMENT PREPARATION BEFORE BIG U.S. OPEN WIN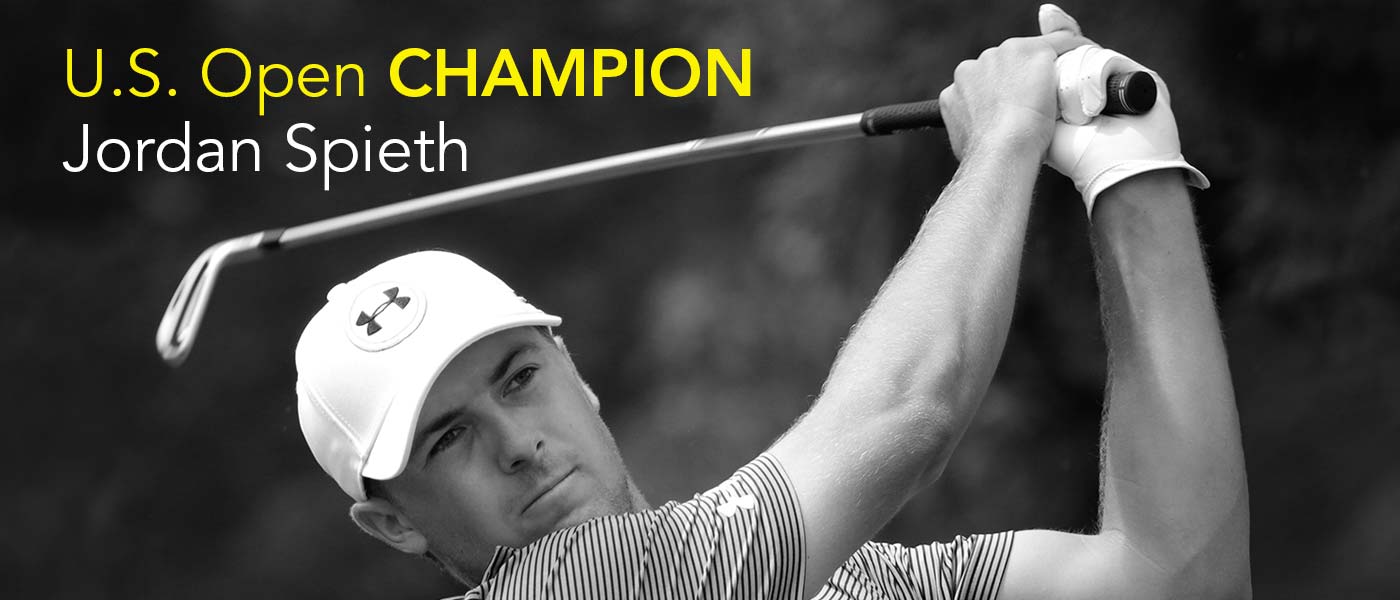 SAN DIEGO, CALIFORNIA – It was an epic finish to a whirlwind U.S. Open. Setting the stage was a new, challenging course traversing a steep hillside with deep grasses and sprawling bunkers. Throw in Jason Day with his determination to fight through vertigo, greens that looked and played like "heads of broccoli", and a field of disgruntled TOUR Pros, and you have the makings of another dramatic U.S. Open.
It was on this stage that Jordan Spieth solidified his place in the history books at Chambers Bay, site of the 115th U.S. Open. He's only the sixth golfer to ever win the first two tournaments of the Gland Slam and is also the youngest player to win the U.S. Open since 1923. After a difficult navigation of the par 3 17th, where he managed to double bogey, Jordan answered quickly with two brilliant shots to get onto the green and putt for a birdie on the final hole. Challenging as the course was, over the four days of competition, Jordan maintained a level headed resolve and finished as the reigning champion.
Just a week prior to his victory at the U.S. Open, Jordan took a moment to sit down with the Full Swing team at his house to explain how he uses the Full Swing golf simulator to prepare for his tournaments. Citing the ability to increase his repetitions, shape his shots better, and the ability to play whenever he wants, Jordan takes some time to demonstrate how he does this in an upcoming video. Keep checking fullswinggolf.com this week for his candid interview and demo of his home golf simulator.
The entire Full Swing team sends congratulations to Jordan Spieth on a very exciting week and a well-deserved win!
**UPDATE: Watch our interview with 2015 Masters and U.S. OPEN Champion, Jordan Spieth, on his tournament preparation, growing the game, and why he chose Full Swing Golf.[/vc_column_text][vc_column_text] [do_widget "text" ][/vc_column_text][/vc_column][/vc_row]