FULL SWING GOLF SIMULATOR FEATURED AT TIGER JAM 2015
Posted: May 5, 2016
[vc_row css=".vc_custom_1430761802595{margin-top: -45px !important;}" ts_row_bg_effects="single" ts_row_screen_height="false" ts_row_screen_offset="0″ ts_row_min_height="274″ ts_row_break_parents="99″ ts_row_zindex="0″ ts_row_bg_source="full" ts_row_bg_position="center" ts_row_bg_size_standard="cover" ts_row_bg_size_parallax="cover" ts_row_bg_repeat="no-repeat" ts_row_parallax_type="up" ts_row_bg_alignment_v="center" ts_row_bg_alignment_h="center" ts_row_parallax_speed="20″ ts_row_automove_speed="75″ ts_row_automove_scroll="true" ts_row_automove_align="horizontal" ts_row_automove_path_h="leftright" ts_row_automove_path_v="topbottom" ts_row_movement_x_allow="true" ts_row_movement_x_ratio="10″ ts_row_movement_y_allow="true" ts_row_movement_y_ratio="10″ ts_row_movement_content="true" padding_top="30″ padding_bottom="30″ margin_left="0″ margin_right="0″ single_color="#ffffff" gradient_angle="0″ gradient_color_start="#cccccc" gradient_start_offset="0″ gradient_color_end="#cccccc" gradient_end_offset="100″ video_mute="true" video_loop="false" video_start="false" video_stop="true" video_controls="true" video_raster="false" svg_top_on="false" svg_top_style="1″ svg_top_height="100″ svg_top_flip="false" svg_top_position="0″ svg_top_color1="#ffffff" svg_top_color2="#ededed" svg_bottom_on="false" svg_bottom_style="1″ svg_bottom_height="100″ svg_bottom_flip="false" svg_bottom_position="0″ svg_bottom_color1="#ffffff" svg_bottom_color2="#ededed" ts_row_raster_use="false" ts_row_overlay_use="false" ts_row_overlay_color="rgba(30,115,190,0.25)" animation_scroll="false" animation_speed="2000″ video_remove="false" ts_row_raster_type="transparent" show_large="true" show_medium="true" show_small="true" show_extra="true" show_remove="true"][vc_column width="1/1″][vc_column_text el_class="page-heading"]
News & Events
[/vc_column_text][/vc_column][/vc_row][vc_row el_class="post-layout" ts_row_screen_height="false" ts_row_screen_offset="0″ ts_row_min_height="100″ ts_row_break_parents="0″ ts_row_zindex="0″ ts_row_bg_source="full" ts_row_bg_position="center" ts_row_bg_size_standard="cover" ts_row_bg_size_parallax="cover" ts_row_bg_repeat="no-repeat" ts_row_parallax_type="up" ts_row_bg_alignment_v="center" ts_row_bg_alignment_h="center" ts_row_parallax_speed="20″ ts_row_automove_speed="75″ ts_row_automove_scroll="true" ts_row_automove_align="horizontal" ts_row_automove_path_h="leftright" ts_row_automove_path_v="topbottom" ts_row_movement_x_allow="true" ts_row_movement_x_ratio="10″ ts_row_movement_y_allow="true" ts_row_movement_y_ratio="10″ ts_row_movement_content="true" padding_top="30″ padding_bottom="30″ margin_left="0″ margin_right="0″ single_color="#ffffff" gradient_angle="0″ gradient_color_start="#cccccc" gradient_start_offset="0″ gradient_color_end="#cccccc" gradient_end_offset="100″ video_mute="true" video_loop="false" video_start="false" video_stop="true" video_controls="true" video_raster="false" svg_top_on="false" svg_top_style="1″ svg_top_height="100″ svg_top_flip="false" svg_top_position="0″ svg_top_color1="#ffffff" svg_top_color2="#ededed" svg_bottom_on="false" svg_bottom_style="1″ svg_bottom_height="100″ svg_bottom_flip="false" svg_bottom_position="0″ svg_bottom_color1="#ffffff" svg_bottom_color2="#ededed" ts_row_raster_use="false" ts_row_overlay_use="false" ts_row_overlay_color="rgba(30,115,190,0.25)" animation_scroll="false" animation_speed="2000″][vc_column width="1/1″][vc_column_text el_class="post-body" css=".vc_custom_1431982321744{margin-top: -20px !important;}"]
FULL SWING GOLF SIMULATOR FEATURED AT TIGER JAM 2015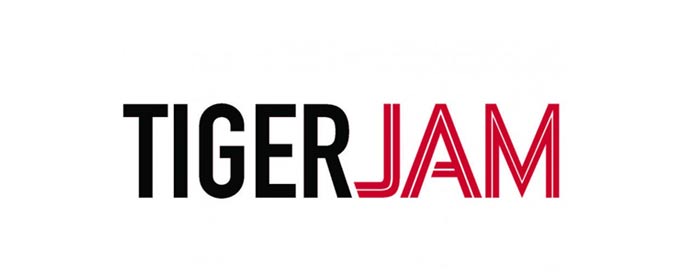 LAS VEGAS, NEVADA – A full Swing golf simulator was showcased at Tiger Jam 2015, as contributors to Tiger's Foundation were treated to an exclusive VIP experience at MGM. The night was filled with fun activities including a silent auction, several open bars with craft cocktails, lounge areas, buffets, a speech on behalf of the foundation by Woods, and a special private performance by Ed Sheeran.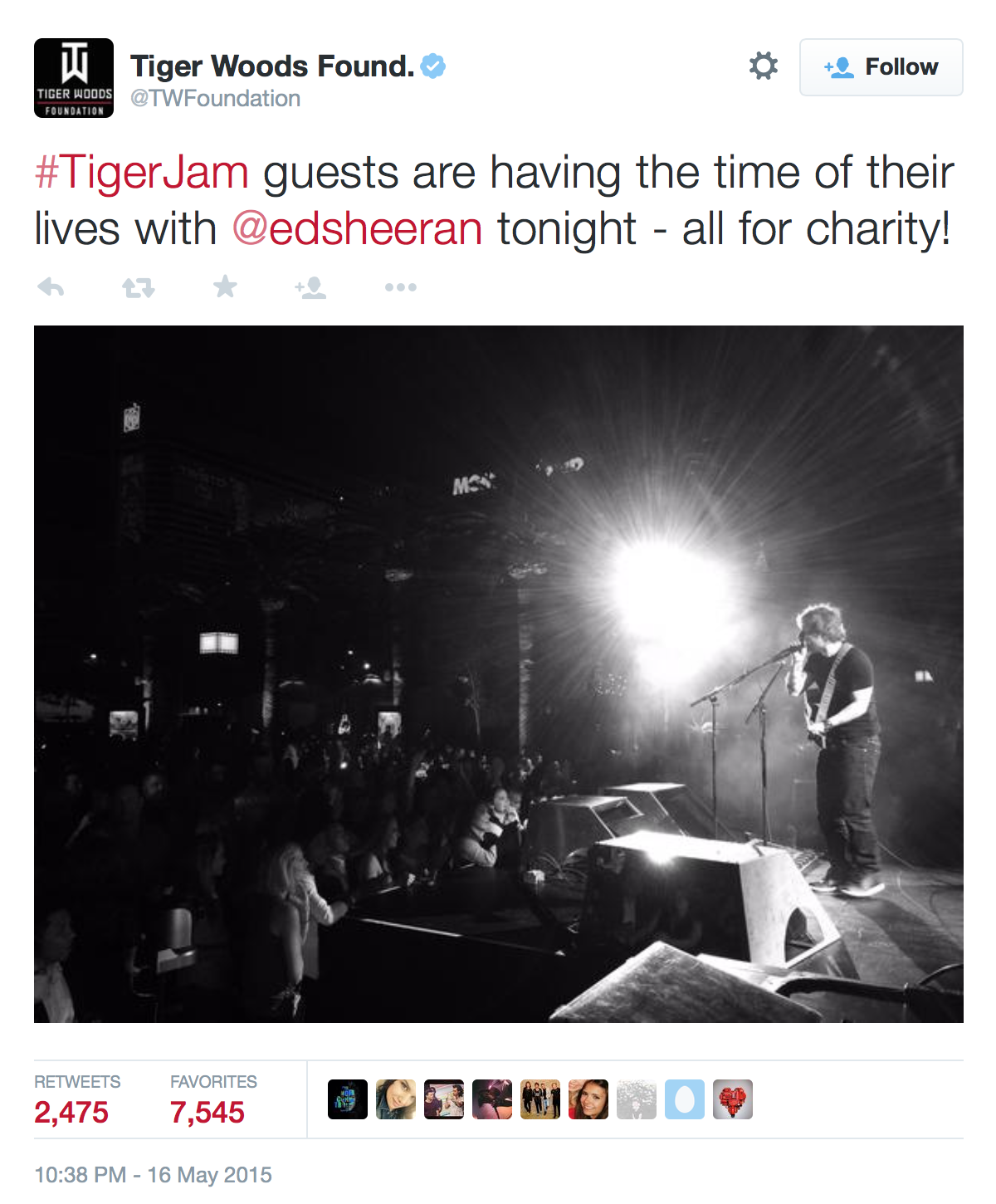 Participants from the evening reported back that Sheeran put on an amazing show, saying that concert goers relaxed and took in the poolside performance in an intimate setting.
Back in the giant event space, the Full Swing golf simulator was hard at work as both avid golfers and first timers tried their hand at the ever-popular closest to the pin contest. Competition got pretty hot, as more than a hundred participants shot at the 161 yard 17th hole at PGA National. The pin placement was tough, sitting on the front left corner of the green, but one person emerged victorious to win the grand prize – a golf flag autographed by the man himself, Tiger Woods.
The Tiger Woods Foundation breaks the cycle of poverty through college-access opportunities for low-income students. At Tiger Woods Learning Centers across the country, scholars in grades 5-12 are immersed in an interactive STEM (science, technology, engineering, math) curriculum where they make the connection between school and career – while planning a road map to college.
To learn more about the Tiger Woods Foundation:
http://www.tigerwoodsfoundation.org[/vc_column_text][vc_column_text] [do_widget "text" ][/vc_column_text][/vc_column][/vc_row]