FULL SWING GOLF AND WORLD GOLF CHAMPION PATRICK REED ANNOUNCE NEW PARTNERSHIP
Posted: June 11, 2016
News & Events
FULL SWING GOLF AND WORLD GOLF CHAMPION PATRICK REED ANNOUNCE NEW PARTNERSHIP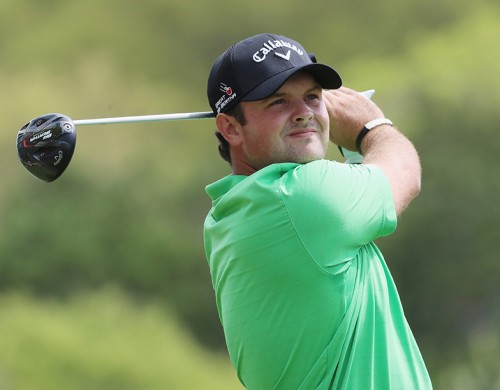 SAN DIEGO, May 19, 2016 /PRNewswire/ — Full Swing Golf, the leader in indoor golf simulator technology, today announced a new partnership with four time PGA TOUR winner and US Ryder Cup team member, Patrick Reed.
PGA TOUR Champion, Patrick Reed Will Join the Full Swing Golf Ambassador Team "Patrick demonstrates an unmatched level of commitment to performance and training," said Ryan Dotters, CEO of Full Swing Golf. "His passion for the game is what we embrace at Full Swing and we couldn't be more excited to partner with him."
Reed has had success on the PGA TOUR, with four TOUR victories, most notably a win in the 2014 WGC- Cadillac Championship. In 2014, Reed became the youngest-ever winner of a World Golf Championship and one of just four players in the last 20 years to win four PGA TOUR events by the age of 25. In addition, Reed has made two U.S. national appearances; making his first debut on the U.S. Ryder Cup Team in 2014, as well as having played a key role in the victorious 2015 Presidents Cup.
"I am thrilled to partner with Full Swing to enhance my performance on the course," said Reed. "Full Swing's cutting edge technology will allow me to have a more consistent practice regimen and provide the most accurate indoor technology available."
Reed will be supporting the brand through various marketing initiatives and accompanies Full Swing Golf's all-star roster of professional sports clients from the NFL, NBA and MLB. Specifically, he joins the unprecedented team of global golf ambassadors including: Tiger Woods, Padraig Harrington, Mark Wilson, Hunter Mahan, Bill Haas and reigning Masters and US Open Champion, Jordan Spieth.[/vc_column_text][vc_column_text] [do_widget "text" ][/vc_column_text][/vc_column][/vc_row]