Full Swing And Jim Furyk Announce New Multi-year Partnership
Posted: June 3, 2017
FULL SWING AND JIM FURYK ANNOUNCE NEW MULTI-YEAR PARTNERSHIP
SAN DIEGO, Calif., April 4, 2017 – Full Swing, the leader in indoor golf simulator technology, today announced a new partnership with seventeen time PGA TOUR Champion, with the lowest single-round score in PGA TOUR history, Jim Furyk.  Since turning pro in 1992, Furyk has become one of the most notable and recognizable players in golf history with a career-best three wins in 2010, earning him the FedEx Cup that year.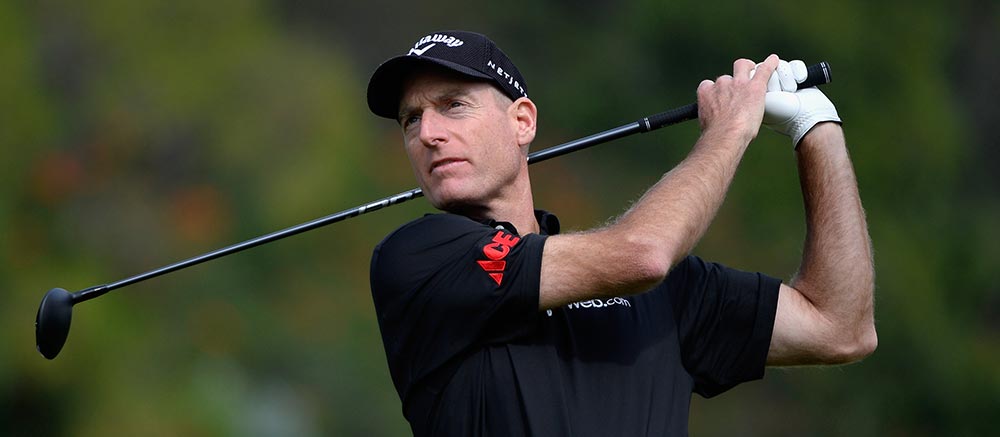 "My new partnership with Full Swing is an exciting opportunity to continue to develop my game on and off the course," said Furyk. "I am completely amazed at the accuracy of Full Swing simulators and can't wait to have one installed in my home. The technology Full Swing simulators provide is like nothing I've experienced.  The extensive data collection, preciseness of the tracking, and reliability of the system will be a huge asset to my practice schedule while giving me the opportunity to analyze my game further."
Furyk's Full Swing S8 Series simulator, is planned for installation in late spring at his Ponte Vedra Beach, Florida residence. All Full Swing simulators include the patented dual tracking technology which combines high speed cameras and infrared light wave technology to produce the most realistic ball tracking data available. Full Swing is the only tracking system that MEASURES ball flight in real-time, providing unmatched ball feedback as a shot transitions instantly from the real world to the virtual world.
"This is a very exciting time in Full Swing history.  Jim is one of the most established and iconic players in golf, a natural leader and calm but fierce competitor.  We look forward to working with him and supporting him throughout our multi-year partnership," said Jason Fierro, SVP, Sales & Marketing of Full Swing.
Furyk joins Full Swing's global golf ambassadors list including; Tiger Woods, Jordan Speith, Jason Day, Patrick Reed, Padraig Harrington, Smylie Kaufman and many more all-star professional sports clients from the NFL, NBA and MLB.
CONTACT:
Jason Fierro
Full Swing Golf, Inc
(858) 675-1100
jason.fierro@webtest.fullswinggolf.com[/vc_column_text][/vc_column][/vc_row]